Peer Mediation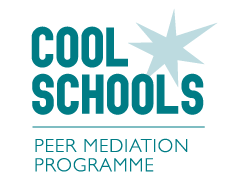 The Cool Schools Peer Mediation Programme is a whole school programme for Years 5-8 that teaches essential life skills for peaceful conflict resolution. The skills taught empower individuals to build positive, caring relationships with others especially when conflict arises over differences. Students from Year 5 upwards provide peer mediation support at lunchtimes with students rostered on to help on different days.
The purpose of the Peer Mediation Programme is to:
raise awareness of conflict and conflict responses.
develop empathy so that individuals listen to each other with understanding.
teach lifelong conflict management skills.
develop leadership in giving service to others through peer mediation.
empower individuals in making positive choices for building successful relationships.
grow respectful, global citizens who value diversity and human rights
Peer Support
Peer support is a programme to help develop confidence and support networks at school, with senior students helping to be role models for the juniors. Year 10 students will be working with students in Room 19 (Years 5&6) to help transition them from the Junior School to senior school routines.