Scholarships

Scholarships recognise academic excellence and potential and provide talented students with the opportunity to further develop their knowledge and skills. A scholarship award allows students to take up new challenges and experiences which may not otherwise be available.
Each scholarship has its own regulations which describe the eligibility criteria for applicants and the scope of the scholarship. If you are intending to apply for a scholarship you should check the regulations to confirm their eligibility and your understanding of the scholarship programme.
---
Links to scholarships in New Zealand
The University of Auckland
Auckland University of Technology (AUT)
University of Canterbury
Lincoln University
Massey University
University of Otago
Victoria University of Wellington
The University of Waikato
Queenstown Resort College (QRC)
Ara - Institute of Canterbury
Otago Polytechnic
Southern Institute of Technology (SIT)
Unitec - Institute of Technology
Wintec - Waikato Institute of Technology
Dairy NZ


StudySpy has the largest database of scholarships in New Zealand with over 2000 to choose from. Search the StudySpy website here: studyspy.ac.nz/search/scholarships
---
More information about scholarships
---
Application Guidelines for First Year Scholarships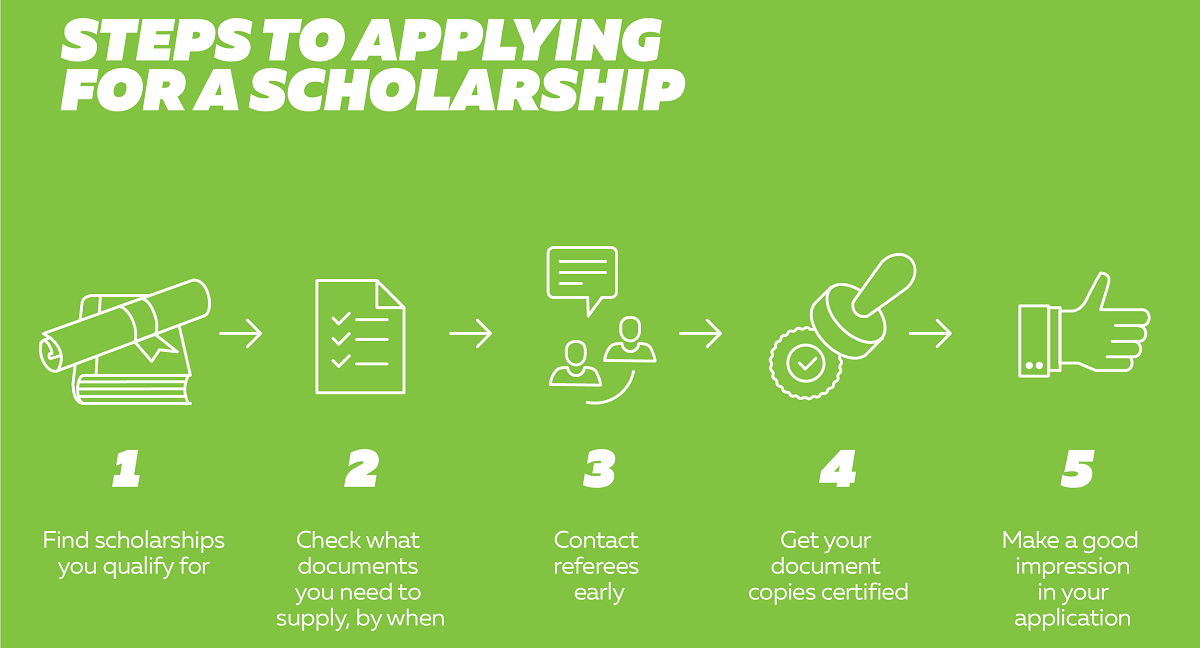 Tips on filling in application forms
Use the checklist if one is provided to ensure you have completed all of the requirements
If a list of documents is requested, supply the documents in the order in which they are requested
Type your application if possible
If you are handwriting your application, use the same style of writing and pen throughout the application and write in neat, legible handwriting
Only provide a Curriculum Vitae (CV) if this is requested. Any documents not requested will not benefit your application
Do not provide original documents. Please ensure that they are certified true copies
Complete all sections of the application form
Do not bind or staple your application, use paper clips instead
Date and sign the privacy provisions
The Majority of applications are online

Eligibility criteria
Always check that you meet eligibility restrictions, such as gender, age, nationality, indigenous or other special group and only apply if you match the eligibility criteria. If you intend to take a gap year, please note that most scholarships that allow a gap year require you to make an application in your final year of high school.
Referees
Your referees are very important. Make sure they know which scholarships you have listed them as a referee. Ensure they are the appropriate people to provide the kind of information about you that the selection committee will need to know. Provide your referee with the regulations of the scholarship you are applying for.
Personal Statements
Your statements are very important. It is your opportunity to "talk" to the selection committees and it is their opportunity to find out what you have to say about yourself. Your statement can reflect your views and aspirations, can explain the events and people that have been major influences on your life, can describe what drives you, why you have chosen the path you have, what your plans are for the future and so on. One paragraph statements are not ideal.
Late applications are not accepted
Where a closing date is listed, applications must be received at the Scholarships Office by 5pm on that day. If a closing date falls on a weekend or a public holiday, applications will be accepted until 5pm on the next working day.
---