How to Choose NCEA Subjects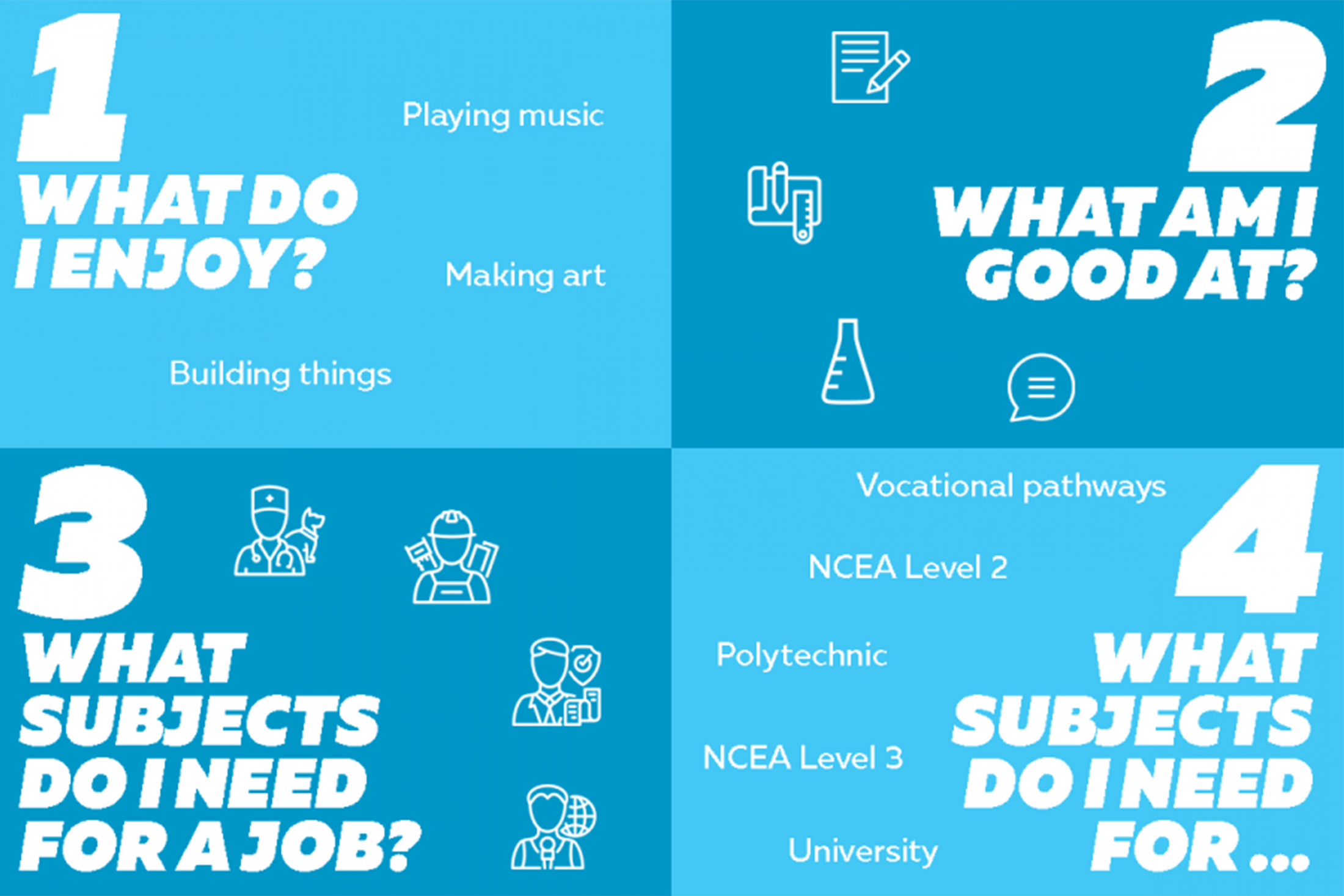 Step 1: Work out what subjects you enjoy
Ask yourself:
Which subjects do I like doing now?
Are there any subjects I'm interested in that I haven't already studied?
What do I like doing outside of school such as playing music, helping people, thinking creatively? Do any subjects include these activities?
Step 2: Work out what subjects you're good at
Ask yourself:
Which subjects am I strongest in?
What subjects do other people say I'm good at?
Step 3: Find out what subjects you need for your career goal
Do you already have some career ideas?
Search for a job that interests you in the careers.govt.nz job profiles.
Go to 'Secondary education' in the 'How to enter the job' section to find out the most useful subjects for each of your career ideas.

Do you need some career ideas?
Use these tools to get career ideas:


Still unsure what career you want?
If you're unsure about what you want to do in the future, don't worry. You can keep your options open by studying a broad range of subjects.
Keeping up with English, maths and at least one science subject is a good idea because these subjects are useful for many courses and jobs.
Step 4: Check you have the right subjects for your study plans
Have you got the right subjects for the next NCEA level?
You may need to study a subject at NCEA Level 1 to study Level 2 in that subject. For example, to study NCEA Level 2 maths you may need to have studied maths at Level 1.
For some subjects at NCEA Level 2 or 3 you may need to have studied a combination of Level 1 or Level 2 subjects already. For example, you might need to study maths and science at NCEA Level 1 to study Level 2 physics.
If you're not sure which subjects you need, check your school's courses handbook or website or ask your teacher.
Have you got the right subjects to do tertiary study?
If you want to go to a polytechnic, university or wānanga you may need a certain number of NCEA credits or a tertiary entrance qualification such as University Entrance. If there's a course you'd like to do when you leave school, make sure the subjects you study will earn the credits you need for it.
Are you thinking about an apprenticeship or trade?
If you want to get an apprenticeship or a job in a particular industry, you could study subjects with skills that will help you get a Vocational Pathway Award.
Vocational Pathways show you how different NCEA credits relate to the skills employers value, and help you pick a tertiary or trade course that's right for you.
If you need help planning a vocational pathway, talk to your teacher.

NCEA subject checklist
Have you:
checked your subjects are approved for University Entrance if you plan to go to university?
checked your subjects could help you get a Vocational Pathway Award if you want to do an apprenticeship or have a trades career?
talked over your subject choices with your parents and whānau?
talked to your teachers and school career advisers?
Further Information
NZQA website – approved subjects for University Entrance