Sports News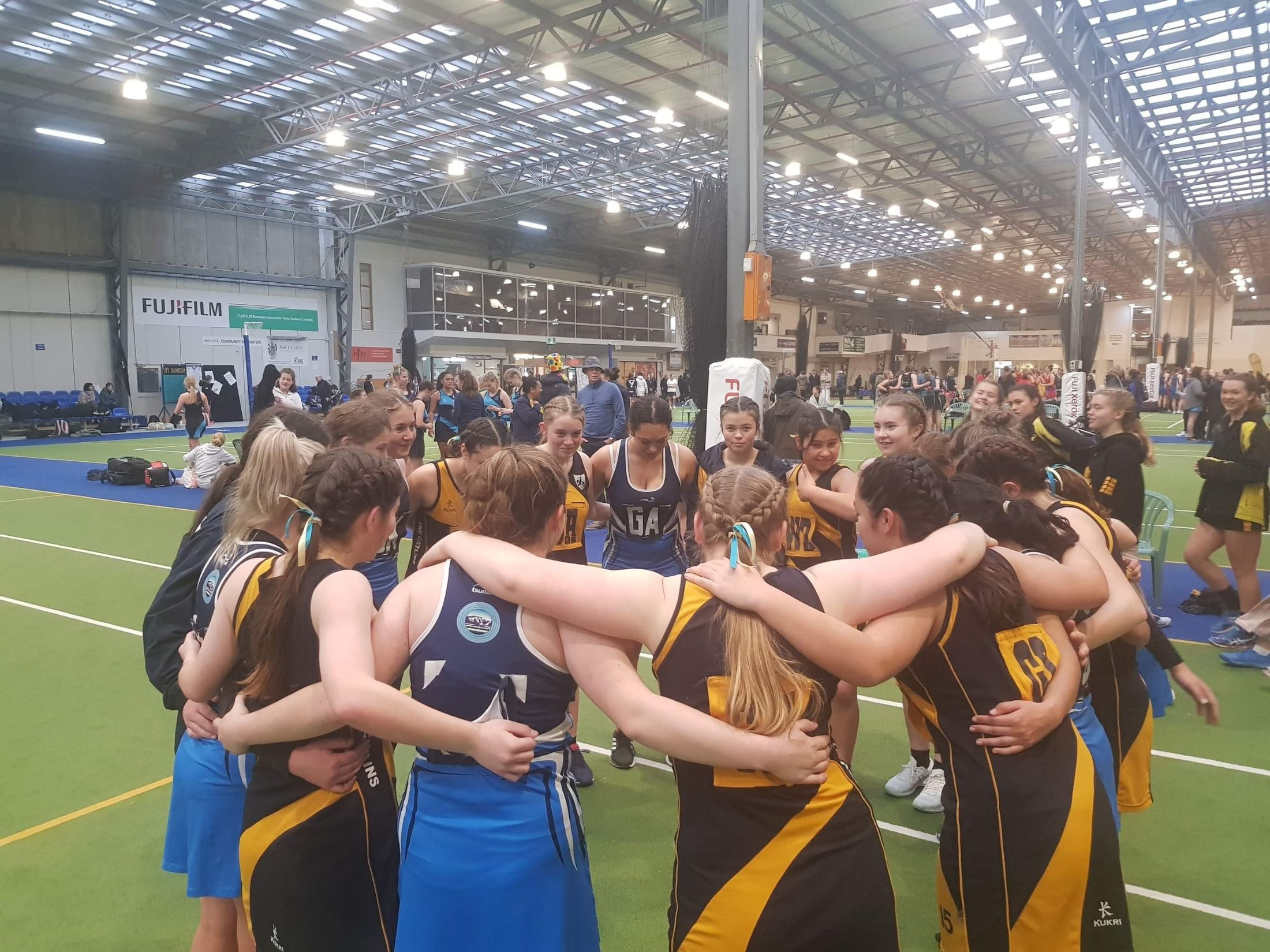 Otago Secondary School Netball, Senior Basketball, Hockey, TCAS Cross Country
Otago Secondary Schools Netball
On Sunday 13th and Monday 14th June, TCAS Senior A Netball team travelled to Dunedin to compete in the Otago Secondary Schools Netball tournament. We had two games each day competing against Roxburgh, Kaikorai Valley, Lawrence and Maniototo. We lost all our games but our goal of winning some quarters in each game was achieved.
Every player developed over the duration of the tournament. We really enjoyed having a team theme and competing in challenges over the course of the tournament against each other. I would like to thank Hayley and Mrs Cairns for accompanying us away.
My players of the tournament were Amelia Morrison and Jade Gutsell, these girls played consistently well throughout the tournament and improved each game in a range of areas.
Izzy Jenks - Captain
---
Basketball
Secondary - Since the beginning of Term 2, there has been senior social basketball running at the Balclutha Rec Center. The team is composed of year 9s to 13s and have been making great improvements as the season has been progressing. Currently, the team's record is 1 win, 2 losses and 1 draw.
The team is really coming along with working together, understanding how to play the sport and getting better skills. Hopefully, the team can continue to get fantastic participation and they can all enjoy the rest of their season.
Mr TeHuki - Coach
Primary - With the help of Mrs Kerri Nakajima helping transport players and managing a combined TCAS/Clutha Valley team in the Year 7-8 competition and two students have combined with Warepa School in the Year 5-6 competition, teams have had mixed results but are always learning and enjoying their time on the court.
---
TCAS 2021 Cross Country
Scheduled to be held on Wednesday 30th June on farmland opposite Owaka Rugby Grounds. Year 7-13 students will leave school at 12:50 and walk down to the grounds, the remainder of school will leave school at 1:45 pm to join us at the course.
Estimated start times are:
Race 1 - 1:15pm - Year 7-8
Race 2 - 1:25pm - Year 9-13
Race 3 - 2:05pm - Year 1
Race 4 - 2:10pm - Year 2
Race 5 - 2:20pm - Year 3-4
Race 6 - 2:30pm - Year 5-6
At the completion of all the races parents are welcome to take their child home from the ground but MUST inform the staff member situated at the gateway. No student is allowed to leave without a parent present, those students remaining will be escorted back to school grounds with Teachers and will be able to leave as normal from there.
---
Hockey
TCAS has four students in the South Otago Hockey teams competing in Dunedin on Friday Nights at the McMillan Hockey turf, congratulations to Archie Valli, Jack Walker, Kaiyo Nakajima and Harry Walker. These players attended weekly practices in Balclutha on Mondays and followed by evening games in Dunedin each week for over 12 weeks, this is a huge commitment to both players and parents.
Year 7-8 Tournament - On Tuesday 22nd we have 15 students in two teams playing in a 1-day Sport Clutha Hockey Tournament on the grass at the A&P Showgrounds, these tournaments are a great way for students to get involved in sports they have never tried before and the opportunity to play against other schools. Players will leave school at 9:15am and expected to be back in time for buses at end of the day.
Year 5-6 Tournament - To be held in Milton on 6th July permission emails will be sent next week to parents of interested players.