Gateway Presentations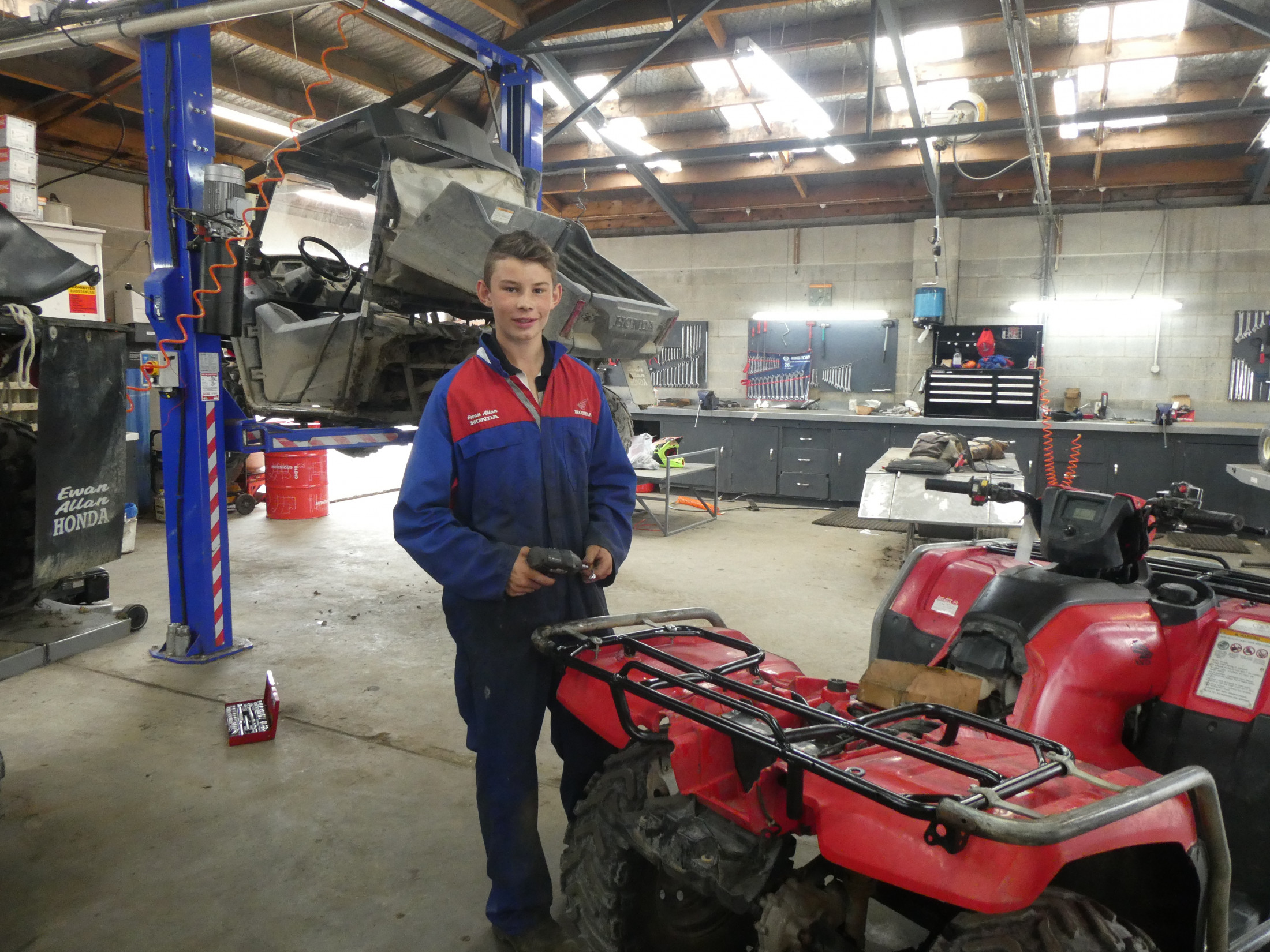 Our senior students were presented with certificates and gifts following successful completion of their Gateway programme for 2019
Our senior students were presented with certificates and gifts following successful completion of their Gateway programme for 2019. This year, we are proud to have organised more work experience placements than in previous years - allowing students extra opportunities to trial their career aspirations.
Here are a few of the brief speeches students gave on receipt of their certificates:
Gateway Experience – Joey Jenks (Year 10)
At the beginning of term three, I was placed on Brent and Juliet Nish's dairy farm. I am one of four boys that are working on a dairy farming course with the help of Dairy NZ. We are working towards an 8 credit Level 2 NCEA standard – Assist with Milking.
I expected to only learn how to put the cups on the cows. What I did learn was that there are two types of dairy shed and that the milk from cows treated with penicillin could not go into the vat with all the other milk otherwise it would make people who are allergic to penicillin sick.
The worst part of the experience so far is not really going further than the milking shed, although I was expecting it. Another thing I didn't like is that I am not allowed to ride motorbikes, so on the first day when I was helping to move cows I had to ride on the back of the quad bike.
The best part of the experience for me has been meeting new people and getting to know them. Another good part of this placement is that I get to learn a lot about cows and farming.
I would consider a career in this area because you get to outside and work with animals for most of the day. The only part that would put me off in a job in dairy farming is the early starts in the morning.
I would recommend doing an experience like this to others, but only if they can handle all the poo in the shed and the smell!
Gateway Experience – Lauren Grant (Year 11)
For my gateway experience, I went to Cafe 55. I really enjoyed my time here because I understood everything I needed to do easily, and I enjoyed doing most of it. The staff were also nice people who treated me fairly for the whole week. While I was there, one of my main tasks was dishes, but I also got to make drinks, serve food to tables, bake, and prepare ingredients and food. To me, one of the most rewarding parts was finally perfecting things that I had trouble with, like the precise process of making coffee. A part that I didn't enjoy as much was that my main job was dishes, because there were a lot of them, pretty much all the time. I would definitely be happy if I had a job in a cafe, I think it's something that comes naturally to me, and I don't think there's ever a boring moment. I'd encourage anyone who wants to have a gateway experience in a place like this.
Gateway Experience – Robbie Jackson (Year 12)
For my Gateway 2019 placement, I spent four days at Euan and Allan Honda in Balclutha.
I went to Honda, not necessarily knowing what to expect, but I did think I would be doing some work on dirt bikes. Maybe, if I was lucky, I might even get to help with a top-end rebuild.
Although I didn't get to do a top end or a lot of work on dirt bikes, I did have a great time and learnt a lot about quads instead.
While I was there I did spend most of my time working on quads, welding up plastics, painting frames and assisting with servicing the vehicles. It wasn't a busy time of the year for Honda, this meant they were able to teach me.
On the first day, Gav brought in his old 3 wheeler that wasn't going. I was given some direction and after taking the carburettor out and cleaning out the fuel tank and lines, I was able to get it going again.
I feel that my experience at Honda has given me more confidence to work on my own bike and to try and fix any problems with it myself before sending it off.
I am extremely grateful for the experience that I gained from Euan and Allan Honda and would highly recommend Honda as a Gateway placement. I really enjoyed my time there - a big thanks to the team at Balclutha Honda for having me!
Gateway Experience – Adam Pullar (Year 13)
This year for gateway I was placed at the Owaka Museum. I chose museum work because I have a general interest in History.
During my time at the museum, I was under the supervision of Mike McPhee. He showed me how they go about researching and typing up the information that goes with the exhibits.
My week was spent looking through various books, on museum websites and anywhere else I could find information on some portraits that were to be a new entry into the museum. I prepared the information to accompany the exhibits, which is now displayed in the museum. I concluded my week with cleaning and hanging the portraits ready for display.
I was surprised by how much I enjoyed doing this work despite it seeming rather mundane. It helped that Mike and Steph were always very helpful and friendly.
All in all, I enjoyed my week and would recommend that anyone who does have an interest in History to give it a go for themselves.