Experiencing the great outdoors at camp in Ōtepoti!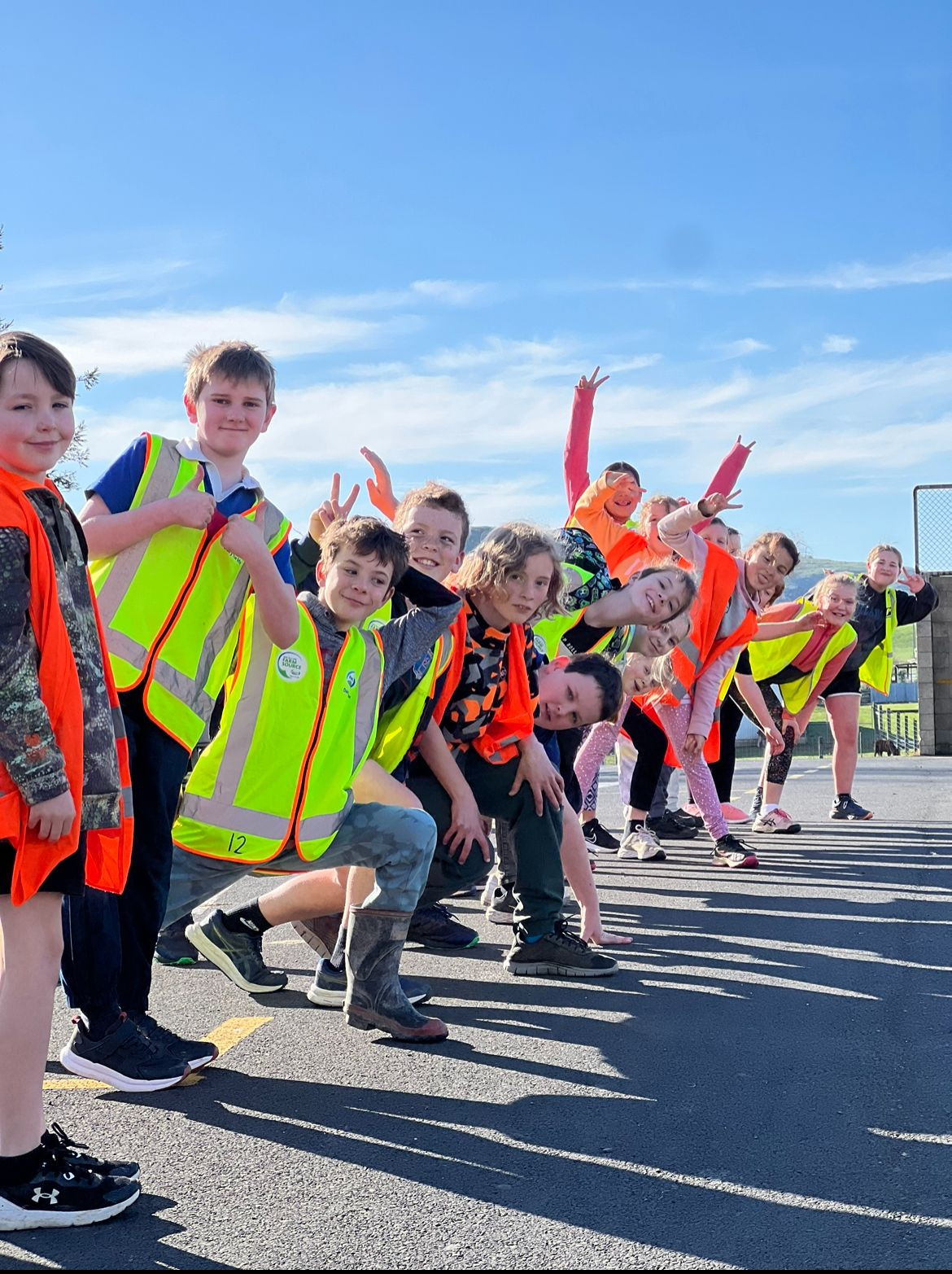 Room 19 headed away last week to Ōtepoti for four days.
Room 19 and Mrs McDougall, Mr Bloxham, Robyn Lietze, Adele Dawkins and Sarah Blair arrived at school on Tuesday eager to head away on their four-day camp to Waiora Scout Camp near Mosgiel. After some careful tetris style packing by Mr B, one van, four cars and one covered in trailer later headed north carrying the numerous bags, twenty students and five adults to their temporary home. The camp is a vast property hidden in the Silverstream Valley and surrounded by more than 35ha of native bush and parkland, with a large building which slept all the campers in nine bunk rooms.
Camp was a mixture of urban and rural settings, with a range of slower paced activities and a wilder, adventurous side too. Day one included visiting habitats on the Titri wetlands near Waihola, two playground visits and a well thought out scavenger hunt that began unearthing the many activities available at camp.
Ms Darmody joined the crew on the second day as we got the blood pumping conquering Baldwin Street before heading to the museum for a learning filled morning. The Perpetual Guardian Planetarium showed galaxies, planets and star formations, and we were taught how to find the Matariki cluster and the Southern Cross. A three-storey indoor slide, a bike-riding skeleton, and 43 other hands-on interactives were a huge hit before we moved to the indoor tropical forest with exotic butterflies, waterfall and a sky bridge. An art walk around the centre city finished off the day in town before it was time to roast marshmallows at the large fire pit and have a game of spotlight.
The third day was a water themed day with the morning spent at the brand new pool in Mosgiel and the afternoon spent at the rustic, outdoor waterslide. A handful of parents and caregivers came to camp to spend the afternoon and help with the confidence courses. Mrs Hanley joined for the final evening which was an indoor movie night, complete with popcorn.
The last day saw a few tears of joy, (that we would soon be headed home to our own beds and coffee machines), a fair bit of cleaning and a quick walk. We all enjoyed playing mini golf, even those who had never played before; there is still a debate as to who is taking out the top honours. A huge thanks to our fabulous parent-helps Adele Dawkins and Sarah Blair. Your specialist skills of running kitchens and first aid were invaluable!!
Let's not forget about the absolutely remarkable and resilient children that attended camp. For some it was their first time away from home - on a school camp with copious amount of nacho mince and shaved ham. Don't take our word for it, let's hear it from the campers themselves:
I liked the water slide, Museum and Baldwin adrenaline. I did not dislike anything. Juliet Wilson
I liked doing the mini golf and I loved doing the water slide and the fire. I disliked sleeping with Harry McDougall and Jesse because they were never quiet. Luke Affleck
I didn't like the food but also the long walk around the property. I liked having Mum there. Charlie Blair
I liked mini golf, the Museum and the water slide. I did not dislike anything. Haley Jarvis
I liked the Museum because of the butterflies. I did not like Baldwin Street. Mika Nakijima
I liked the Museum, mini golf and the movie Wreck-It-Ralph. I did not dislike anything. Indi Hartvigsen
I liked the Museum and learning about Space. The movie was good too. Brooklyn Landreth
I liked going to the water slide because we could race each other. I didn't dislike anything. Harry McDougall
I liked the Museum and learning a lot about space. I did not dislike anything. Lillian Tyrell
I like going to the planetarium in the Museum and I didn't like the van ride. GrahamTwaddle
I liked going to the museum and seeing the butterfly house. I did not like the water slide. Ella Hudson
I liked the water slide especially the one with the bump! Maggie Bradfield
I liked the Museum! Indie Parkes
I liked the museum, water slide and mini golf. I didn't dislike anything. Harry Lietze
I liked the water slide; it is so fun to go down. I liked the movie Wreck it Ralph. I did not like the food. Riley Nish
I liked when we went to the pool in Mosgiel. I liked how the parents and teachers helped out and it was such a fun experience. I didn't like how we had to wait for everyone to be finished before we did something else. Bailey Powell
I liked how Robyn was driving us to Camp Waiora. I liked playing Spotlight. I didn't like it when Juliet hurt her ankle. Jesse Powell