Tournament Information 2023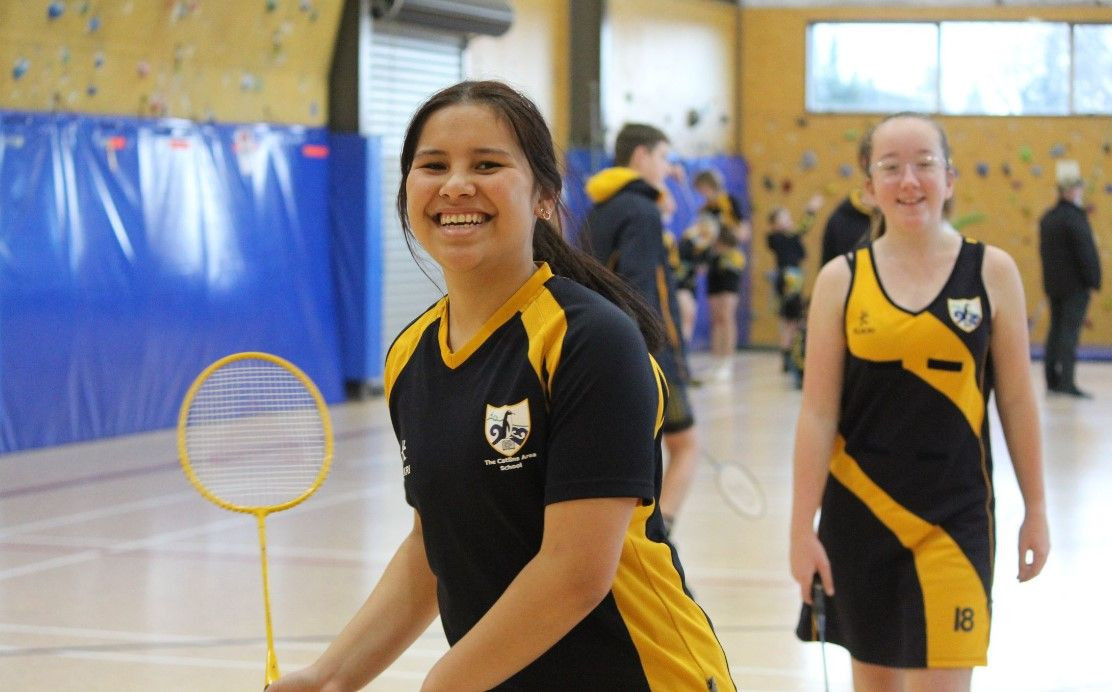 If your child is heading to Area Schools' Tournament in Lawrence next week find out detailed information right here!
I N F O R M A T I O N F O R S O U T H E R N A R E A S C H O O L S T O U R N A M E N T
Lawrence - 10th, 11th, 12th May 2023
T R A V E L
The team is travelling in three vans to Lawrence. Students that are being billited will be collected from and returned to Lawrence Area school each morning by their host whānau.
U N I F O R M
All students are to travel to and from the tournament in a TCAS tracksuit that is issued to them.
Students are to wear school PE top and navy blue/black shorts/tights/tracksuit pants when they are competing in any sport/activity unless given a uniform.
Basketball, Ki o Rahi, and Football teams will be given numbered singlets to play in.
Netball dresses have been issued
Mouthguards are needed for Basketball and Rugby
If you have a TCAS hoodie these can also be worn.
If you need any uniform items, please see Nat asap
A C C O M M O D A T I O N
Students will be billeted out to approved parents and community members in Lawrence. It is always encouraged that students bring a small gift (box of chocolates) to give to their host family.
The name and contact details of students host whānau will be emailed home once confirmed.
B E D D I N G
Students have been requested to bring a sleeping bag and towel with them, if any student does not have a sleeping bag please talk with Nat.
K A I / F O O D
Students are to pack their own lunch for Wednesday.
Students being billeted will be provided with breakfast and evening meals.
We will have some food available in the home room during the tournament.
There is a canteen available please see information in photos.
B A K I N G
Could each family please supply either a slice, muffin (sweet or savoury) or biscuits that we will have in our homeroom to share throughout the tournament
C E L L P H O N E S
Students are allowed to bring cellphones.
They will be collected for the trip up and back from Owaka to Lawrence
Students are to hand in their cellphone to the homeroom when they arrive at Lawrence in the morning
Students are able to take their cell phones with them overnight.
Please communicate with Mrs Cairns if your child needs their phone for any other time/purpose.
S T A F F
The following staff will be travelling with the group;
Principal - Glenys Hanley
Deputy Principal - Mrs Sarah Cairns (TIC, Teacher in Charge)
PE Teacher - Mrs Fiona Wilkinson
Teacher - Miss Emily Currall
Sport Coordinator - Nat Harrex
Photographer/super supporter - Robyn Lietze
Parent - Kerri Nakajima
Please contact Sarah or Glenys during tournament;
Glenys Hanley 021 501441
Sarah Cairns 027 6374307
We would love to see you in Lawrence supporting our students. There is a map and timetable of events.
G E A R L I S T
This is not a complete list but a reminder of the important things to bring.
Sleeping Bag

Towel/s

Playing gear that you need for your specific sport (eg: mouthguards and boots for rugby)

A TCAS PE top / singlet

Sports uniforms (eg: netball dress)

School tracksuit (to be collected from school before leaving)

Effective wet weather gear, polyprops, warm hat, gloves (weather during outdoor sports can be cold in Lawrence)

Sports bag for carrying around your gear throughout the day

Smart clothing for the social on Thursday night

All personal medication (which needs to be notified to Mrs Cairns)

Small first aid kit including strapping tape, sticking plasters, panadol etc for personal needs (the school will have larger 1st aid kits on supply)

Clothing for after sport and at night time

Personal hygiene gear

Small amount of money for the canteen, food when travelling

Plastic bags to take dirty/wet clothing home in

Baking to share for afternoon teas and lunches

Water bottle (NO energy drinks)

Packed lunch for Wednesday (there will be no time to stop on the way for lunch)
---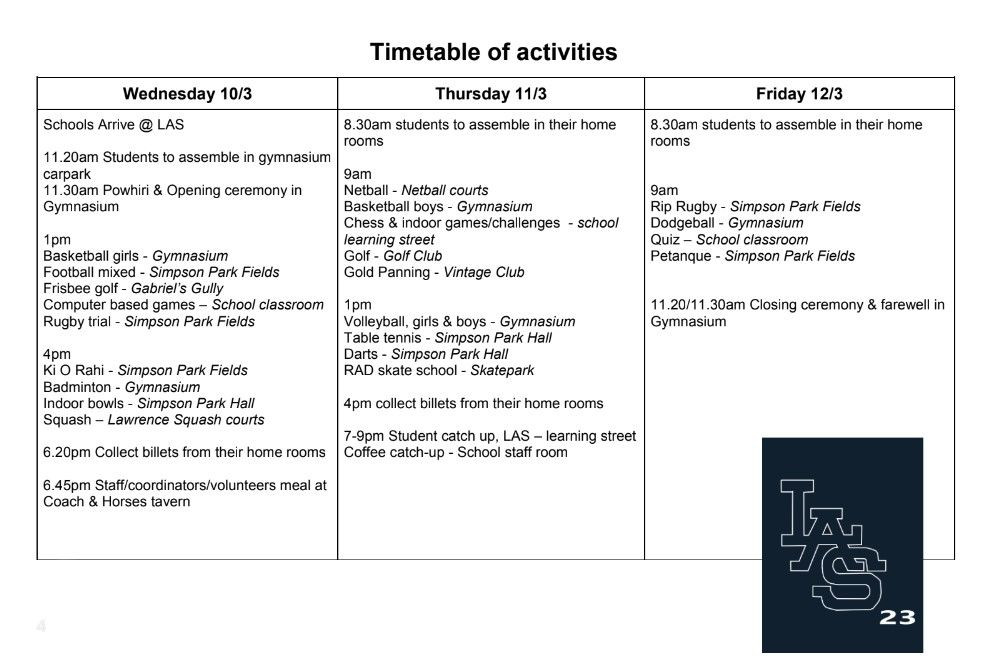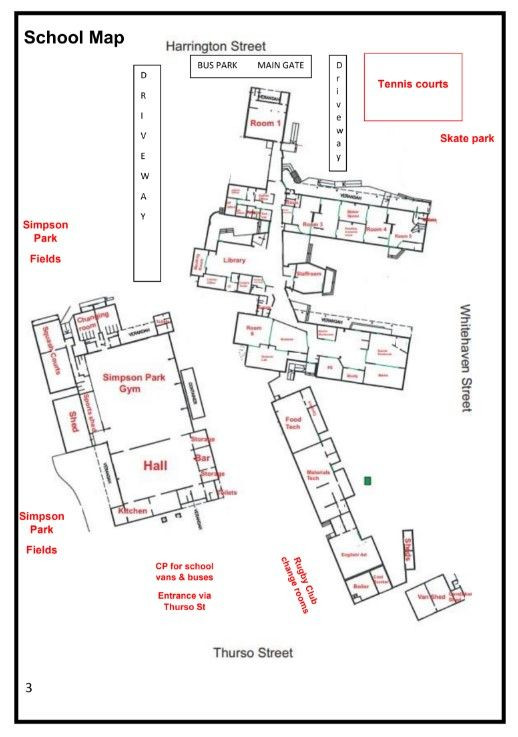 ---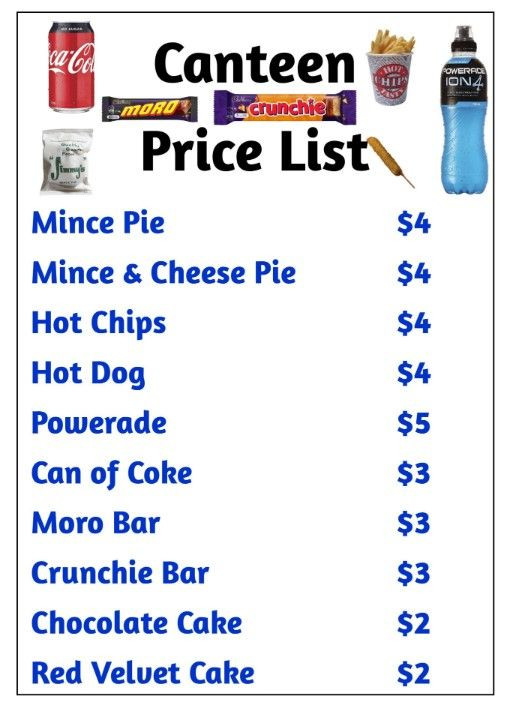 ---