The great ākonga bake off!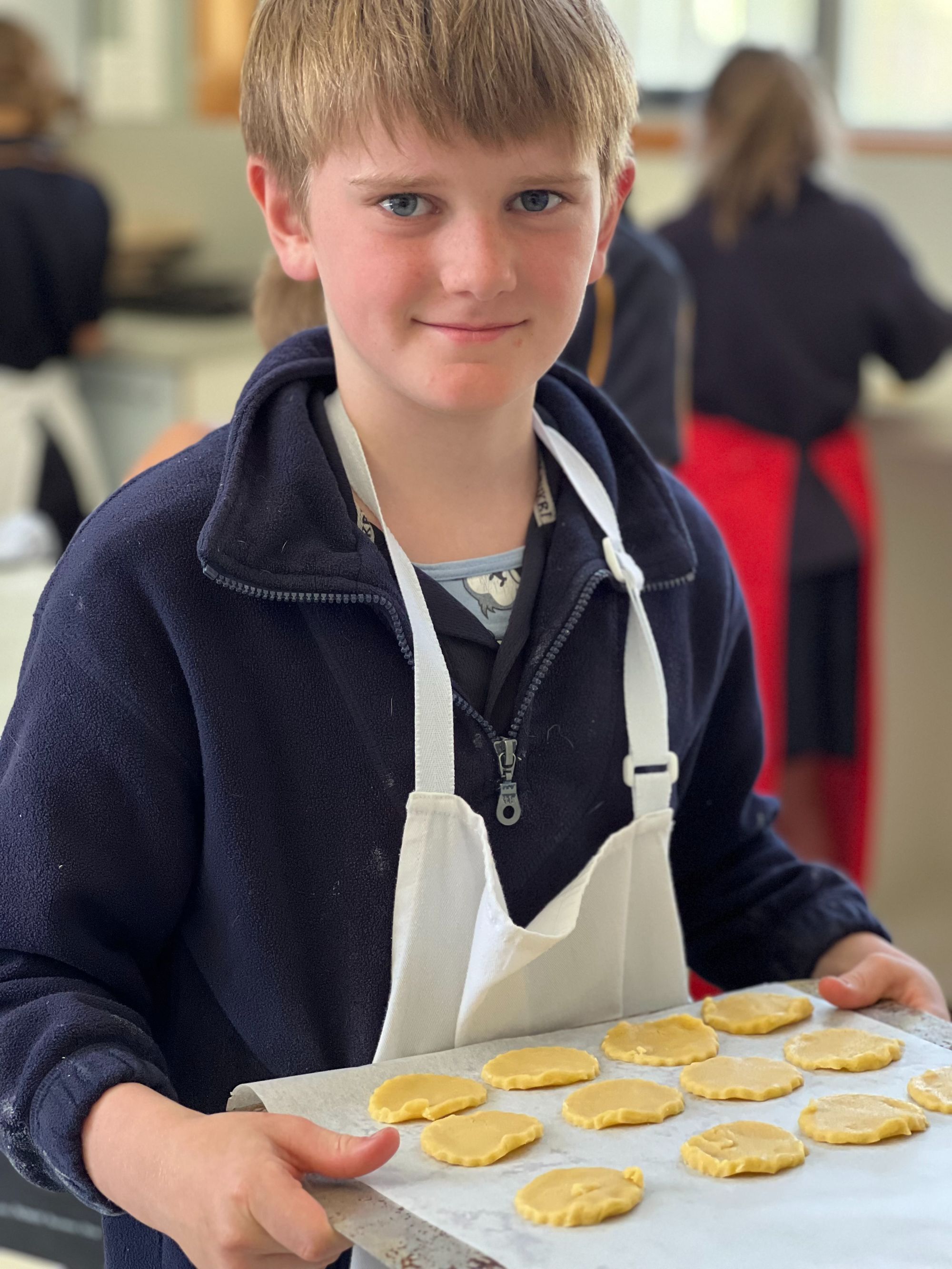 Sugar cookies complete with icing were the highlight of the week for Room 3!
Instructional writing has been the hot topic in Room 3 for the past few weeks. Ākonga have been learning how to first read instructional writing, then follow instructional writing, to writing their own and even how to give verbal instructions. Topics ranged from how to make sandwiches, how to make a bed, and even how to play a game.
With the theory acquired it was time to put it into practice with all students having to follow a detailed recipe for Chelsea Sugar Christmas Cookies. Spanning over three lessons in the food tech room, there were beaters, bowls and copious amounts of flour. Each stage completed and followed correctly was of course rewarded with the most delicious result!
Chelsea Sugar Christmas Cookies
Ingredients:
Cookies:
225g Butter - Room temperature
¾ Cup Chelsea White Sugar
¼ teaspoon Salt
1½ teaspoon Vanilla
1 Egg
2 Cups Flour
Royal Icing:
2 Egg Whites
1 Teaspoon Lemon Juice (strained so no pulp or fibres)
3½ Cups Chelsea Icing Sugar
Warm Water
Method:
Cookies
1. Combine the butter and White Sugar together in food mixer until it is pale and creamy, scraping down the sides of the bowl occasionally and then mix the salt and vanilla well into this mixture.
2. Add the egg and beat well.
3. Slowly add the flour and mix until only just combined.
4. Place some plastic wrap on the bench and tip the mixture into this. Slightly flatten into an oval shape.
5. Cover well in plastic wrap and refrigerate for at least two hours
6. Split the dough into two portions to make it easier to work with. Knead the dough gently using well-floured hands, then on a well-floured bench, roll the dough to the desired thickness (5mm works well).
7. Use the cookie cutter to cut the shape and gently transfer to a baking tray lined with baking paper.
8. Continue to create shapes, and kneading the scraps back together to create more shapes until all dough used.
9. Cook at 160C (Bake) for 13-15 minutes. Keep an eye on them from about 12 minutes on to ensure that they do not begin to brown at the edges; they should be pale golden underneath when done.
10. Cool on the tray for 3 minutes then transfer to a wire rack to cool completely.
Royal Icing
1. In a large mixing bowl add the egg whites and lemon juice and gently combine.
2. Add the Chelsea Icing Sugar one cup at a time, mixing well in between with electric beaters until fully incorporated. If you wish, reserve the last ½ cup to get to soft peaks (you may or may not need this last half cup).
3. Split the icing into small bowls if you wish for different colours. Add water - half a teaspoon at a time - until you get the consistency you desire (see above for explanation).
4. Add food colour if desired - gel colours work best.
5. Spoon into a ziplock plastic bag ready for icing.