Sharing our learning and achievement at assembly!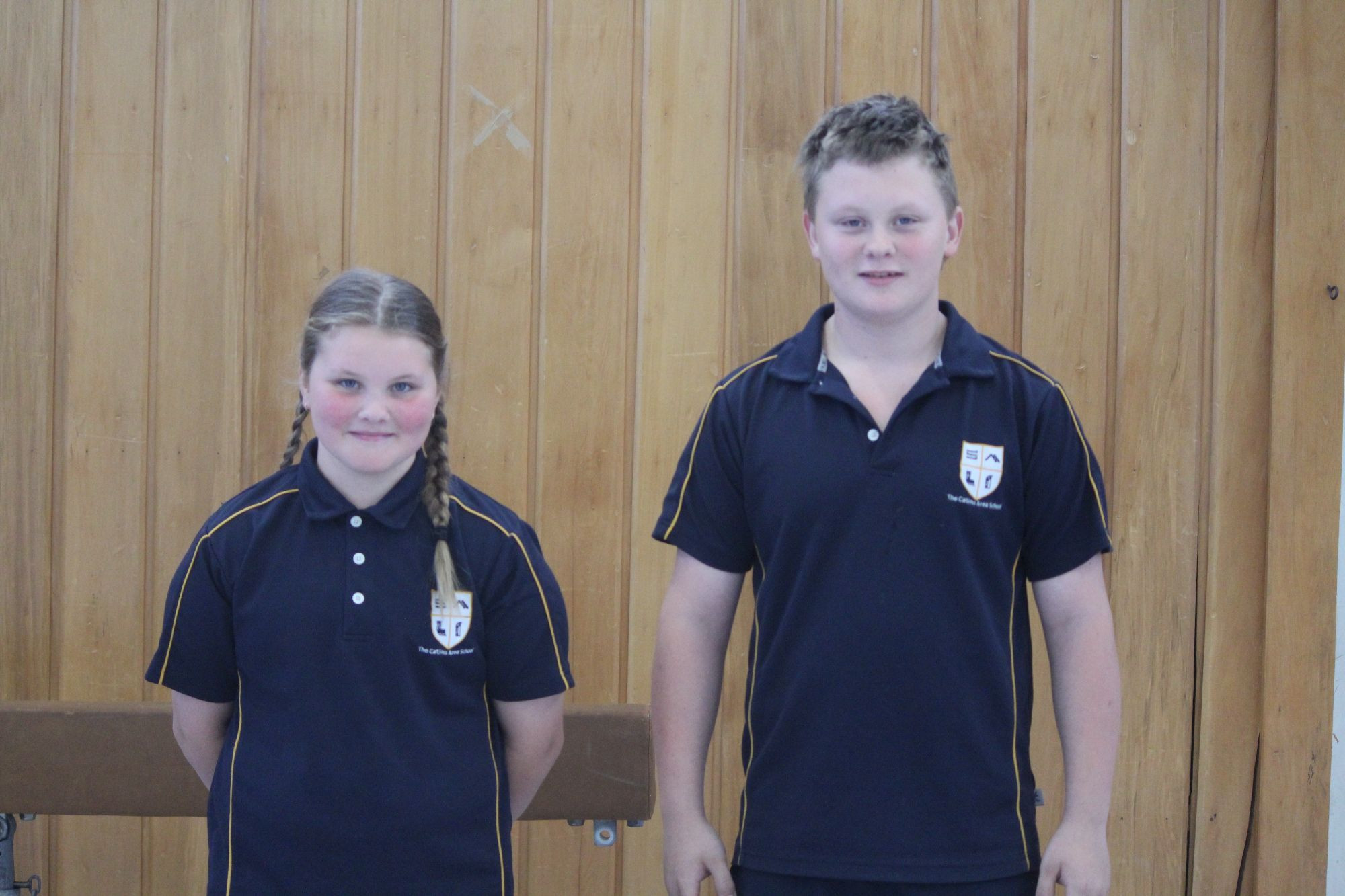 The countdown timer is on for assemblies. We were able to share, learn and celebrate together.
Not having our seniors made this week's assembly smaller than usual, but that did not change the level of enthusiasm for the National Anthem. We were all welcomed to the third assembly of the term and Mrs Cairns was our host.
Throughout the year any student who is seen showing any of the school values, Tenacity, Care, Achievement or Service has received a TCAS Card from teachers. This week two students were awarded their service badge, congratulations to Jacquelyn Barrett and Liam Barrett.
This term our focus is on the value of Achievement value and we have had a lot of achievement in sports recently. Notable mentions were from the Otago Primary School Triathlon, where Hollie Harrex, Rocco Povey and Juliet Wilson achieved first place in Year 6 mixed team. Blake Affleck achieved first place and won the Junior Nut Buster Hard Enduro trophy for 2022 in motocross. Brooklyn Landreth, Astrid Morrison, Harper Melville and Zoe Senior all achieved at SOPSSA Athletics and have qualified for Southland 2022 Athletics competition in Invercargill. Milly Lietze achieved 3rd place in Freestyle 50m at the Otago Primary School Swimming Championships held in Dunedin. We acknowledged these athletes with a round of applause and will award the certificates and ribbons when they arrive.
The anticipated draw for TCAS cards over the last two weeks was drawn. Aria Kirk (absent) was drawn as the winner of the $10 Four Square voucher.
Mrs McLauglin and Room 2 gave an in-depth presentation on Lego WeDos. Lachlan Cairns, Thomas Bradfield, Ella Sellars, Harriett Parker, Micah Olsen and Emma Parkes explained about the hands-on science solutions and how they were able to make a motorised windmill from lego and then operate these fans through ipads. Thanks for sharing Room 2!
There is one last assembly to be held before Prizegiving practice held in the gym on Tuesday 29th November, see you all there!