Superb strokes on show at South Otago Swim Meet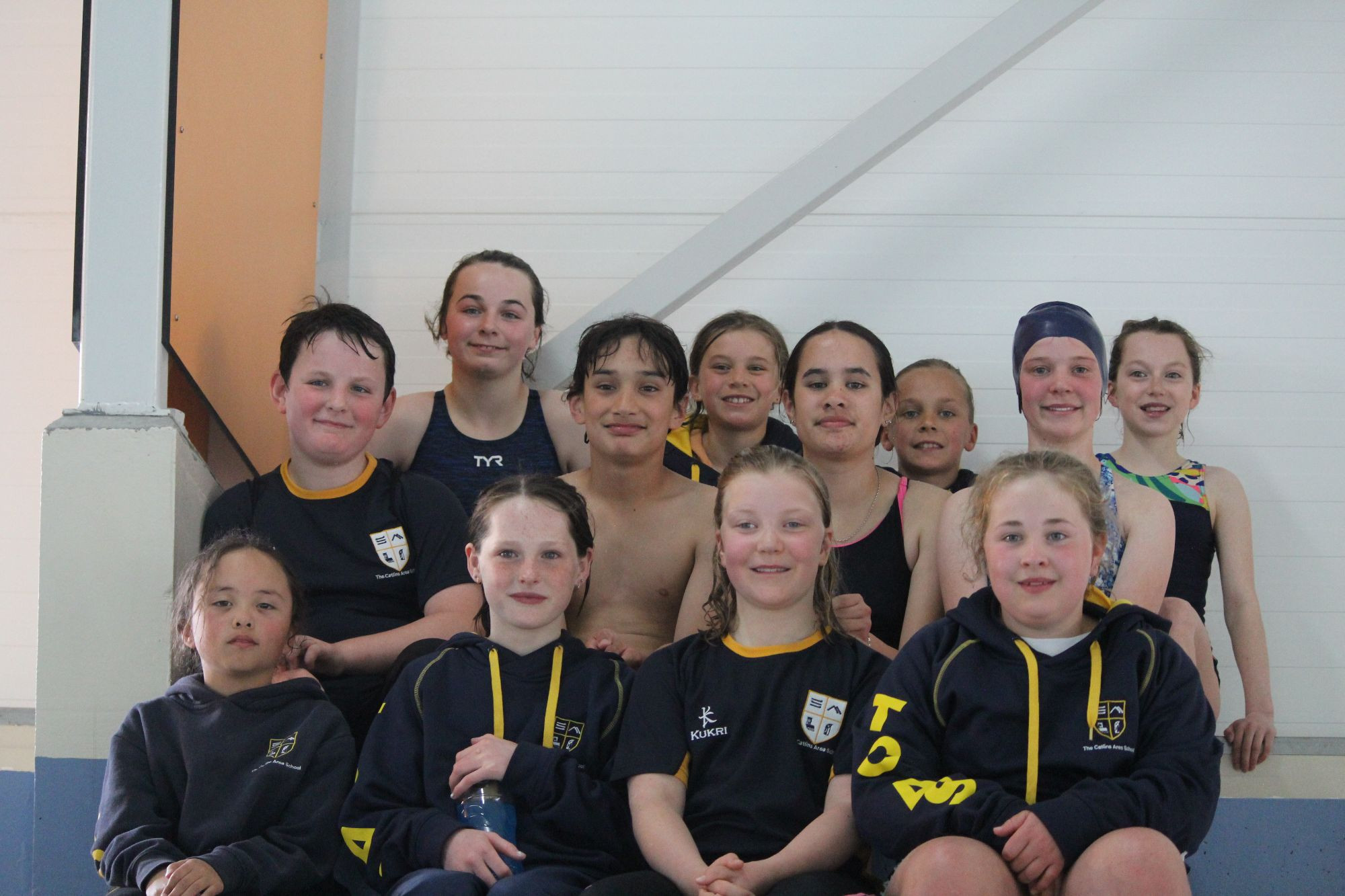 12 primary aged students showed off their talents in the pool at Balclutha on Tuesday with some outstanding results.
SOPSS were held at the Balclutha pool on Tuesday evening. We had 12 students represent TCAS in their chosen events. 50m of freestyle, backstroke, breaststroke and a relay were all on offer with TCAS being represented in all styles.
Emily Currall and Robyn Liezte coached and managed the team like the swim pros they are and parents cheered on from the grandstand. It was at the point when Emily mentioned a land based warm up that Natalie knew I wasn't the woman for the job! The kids were puffing and sweating before even entering the pool. Big thanks to you both for giving up your time and leading these kids to such successes!
2022 saw our best performance yet and TCAS had some fantastic results seeing all 12 students qualifying for the Otago Swim Champs on November 12th in Dunedin. The Catlins Area School came in second overall out of 13 schools. All swimmers did TCAS proud. Ka pai te mahi!
Qualifing students:
Lola Povey, Khloe Dawkins, Harry Lietze, Mika Nakajima, Juliet Wilson, Hollie Harrex, Rocco Povey, Milly Lietze, Annabelle Wilson, Liv Harrex, Astrid Morrison and Austin Morrison.
Placings in Top 3 for Breastroke:
Girls 11 Years old and Under 50m Breastroke - 1st Milly Lietze
Girls 12 Years old and Under 50m Breastroke - 1st Annabelle Wilson
Boys 11 Years old and Under 50m Breastroke - 1st Rocco Povey
Placings in Top 3 for Backstroke:
Girls 9 Years old and Under 50m Backstroke - 3rd Mika Nakajima
Girls 10 Years old and Under 50m Backstroke - 1st Hollie Harrex
Girls 11 Years old and Under 50m Backstroke - 1st Milly Lietze
Boys 11 Years old and Under 50m Backstroke - 3rd Rocco Povey
Girls 12 Years old and Under 50m Backstroke - 1st Astrid Morrison, 2nd Annabelle Wilson
Boys 12 Years old and Under 50m Backstroke - 2nd Austin Morrison
Placings in Top 3 for in Freestyle:
Girls 10 Years old and Under 50m Freestyle - 1st Hollie Harrex
Boys 10 Years old and Under 50m Freestyle - 2nd Harry Lietze
Girls 11 Years old and Under 50m Freestyle - 1st Milly Lietze
Girls 12 Years old and Under 50m Freestyle - 2nd Annabelle Wilson
Boys 12 Years old and Under 50m Freestyle - 2nd Austin Morrison
Placings in Relay:
Mixed 200m Freestyle Relay - 3rd TCAS Austin Morrison, Annabelle Wilson, Astrid Morrison, Milly Lietze